"I see things as they are, and accept them as beautiful. I do not seek to create, rather, to capture."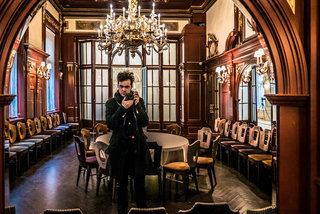 My work leans towards a graphic and emotional perspective; framing a visual harmony between people and their environment. My method, subject matter, and composition all provide an outlet for my individual interpretation of a moment in time; I press the shutter-release, I capture a world of color, shape, and texture and respond to the effects of light, interpreting my experiences and images seen through my viewfinder with insight and intention.
The idea of a photograph, the thought or experiences that inspire the print, is just the start. My work is intentionally printed with hard contrasts, setting the mood I wish to convey and visually inviting the viewer in. I incorporate traditional and digital printing techniques to expose a specific component, be it an understated or exemplified element within the composition. I continually explore the textural and tonal elements of each image. Traditional and digital photography mediums are interrelated; with both offering a means for translation of emotion and graphic conceptualization.
I use medium format film and full-frame digital
SLR
cameras to capture my artwork. My archival pigment prints are all signed and available in limited editions. Each piece is available with white archival matting or mounted on brushed aluminum.
Print sizes range from 5×7" – 40×60"
By Hand Gallery/Bloomington,
IN
- Featured exhibiting artist – "Mandatory Expression: Prague" – April 2014
Gallery 406/Bloomington,
IN
– Featured exhibiting artist "Kyle Spears – Photography" – February 2011
Gallery 406/Bloomington,
IN
– Featured exhibiting artist "Kyle Spears – Photography" – April 2010
Prima Gallery/Bloomington,
IN
– Featured exhibiting artist "Relations" – April 2008
Mcfee Gallery/Indianapolis,
IN
– Exhibiting artist – 2008
Spears Gallery/Nashville,
IN
– Exhibiting artist – 2008
Arts Alive/Florence,
AL
– Exhibiting Artist – 2008
Naperville Art Fair/Naperville,
IL
- Merit Award – 2013
Geneva Arts Fair/Geneva,
IL
- 1st Place 2D – 2013
Naperville Art Fair/Naperville,
IL
- 1st Place 2D – 2012
Round the Fountain Art Fair/Lafayette,
IN
- 1st Place 2D – 2012
Talbot Street Art Fair/Indianapolis,
IN
- 1st Place 2D – 2011
4th Street Art Fair/Bloomington,
IN
– 1st Place 2D – 2011
4th Street Art Fair/Bloomington,
IN
– 1st Place 2D – 2010
Art in the Arbor/Louisville,
KY
– Merit Award – 2010
Indiana Arts Commission Grant award recipient/Indiana – 2008
Art in the Arbor/Louisville,
KY
– Merit Award – 2008
South Shore Arts 65th Annual Salon Show/Munster,
IN
– Award of Distinction – 2008
Art in Speed Park/Speed,
IN
– Merit Award – 2006